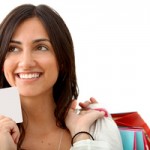 Debit cards and credit cards look a lot alike. They're the same size, of course, and they each come with a logo (usually MasterCard or Visa) that allows you to use the card to purchase items and services from various merchants.
But if you have both of them then you already know that debit cards and credit cards are actually quite different. Debit cards are linked to your checking account, so amount of each purchase purchases using a debit card is immediately withdrawn (or debited). Credit cards, in contrast, allow you to finance purchases over time, if you so choose. These two types of cards also differ in terms of the safety and legal protections that each provides.
Here is some banking advice and tips on both types of cards.
Anti-Fraud Protections. Let's first compare the differences between the debit cards and credit cards when it comes to anti-fraud protection. This refers to a situation where your card or card number is stolen, then used to make purchases, and/or in the case of a debit card to make withdrawals from your account, without your authorization.
Credit Card Liability Cap. Federal law requires that for credit card accounts, your liability for any fraudulent use is capped at $50, provided that you notify your credit card company within 60 days after the date of the statement that includes the first fraudulent transaction. This is a valuable protection, but it does mean that you need to pay close attention to the charges that appear in your statement each and every month.
Debit Card Liability Cap. On the other hand, federal law only maintains the same $50 liability limit for two days after the initial fraudulent transaction. After those two days, your total liability will increase to $500. For many people, this might be all or a significant portion of the amount that they have in their checking account.
It's worth noting that this five hundred dollar liability cap is simply the minimum that's required under federal law. Some banks choose to provide a significantly higher level of protection to their customers. The next time you're looking to change banks or open a new checking account it may be worth taking this fact into consideration.
Correcting Any Problems. If you do become subject to fraudulent activity on your account, it's generally easier to clear up the problems if the activity occurred on a credit card rather than a debit card, because the credit card companies have relatively efficient processes for doing so.
Furthermore, consider that when you are in the process of trying to have fraudulent activity corrected with respect to a debit card/checking account, you likely won't have use of those funds until the problem is resolved. Compare that to a situation where fraudulent charges exist on your credit card account, in which case you don't lose access to any of your money. In the situation involving a debit card, you may experience serious cash flow difficulties.
Of course, choosing to use your credit card instead of the debit card because it's relatively safer is only part of the decision. If you have problems or issues with overspending due to your credit card, you may wish to use your debit card more often.
Tags: Banking Advice, checking account, credit cards, debit cards