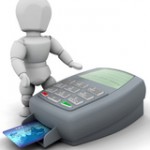 With the prevalence of online banking and electronic funds transfers, as well as the large number of automated teller machines that are available, there are more ways than ever for us to access the funds in our checking accounts. One of the most common ways for people to gain access is through the use of a debit card.
Debit Card Basics. A debit card is a banking card that provides direct and immediate access to the cardholder's funds. The most common type of debit card is one that's linked to a checking account. This allows the account owner to spend funds from their account without having to write a check or visit an ATM to withdraw cash beforehand.
When you use a debit card the amount of your charge is immediately – or within a day or two – debited or withdrawn from your account. In this regard, the practical effect of using a debit card is substantially equivalent to using cash or writing a check. Using a debit card is different from using a credit card, because with a credit card you don't need to withdraw funds from your account pay for your purchase until the end of your credit card billing cycle.
Of course, even at the end of the billing cycle you don't actually have to completely pay for your credit card purchase, provided that you pay a small portion of it, as well as the fees and interest charges that will accumulate for as long as there is an outstanding balance on your account. For individuals who may have difficulties controlling their spending, a debit card is preferable because it's impossible to spend more than they have in their checking accounts.
Visa or MasterCard Networks. Virtually all debit cards are affiliated with either Visa or MasterCard, and the card itself will carry the appropriate affiliation logo. Banks do this in order to use the vast Visa and MasterCard payment gateways for electronic funds transfers. Because of these affiliations, a debit card can be used at any store or online retailer that accepts credit card payments. The Visa and MasterCard network affiliations are essential for individuals to use their debit cards for online shopping, since many online retailers don't accept any other type of payment.
Prepaid Debit Cards. Many cards that are referred to as "prepaid credit cards" are in fact debit cards. When you have to pre-load the card with money, or maintain a certain amount on deposit, there really isn't an extension of credit being made to the card user.
What You Should Know About Your Debit Cards. The most important thing to remember about your debit card is that even though it may be affiliated with the Visa or MasterCard network, the security protections are not quite the same as with a credit card. If there is any unauthorized use of your debit card, it can be more difficult and take more time to get your funds back. This means that you need to keep your card number, as well as the physical card itself, safe and secure at all times.
Tags: Banking Advice, checking account, debit card