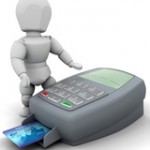 Debit cards and credit cards certainly appear to be quite similar. They both carry a Visa or MasterCard logo, they both allow purchases of products and services without having to carry around large amounts of cash or hassle with a checkbook, and both contain some degree of protection against fraud or unauthorized account use.
But there are also some significant differences between the two types of cards. In fact, there are some situations where using a debit card comes with a higher degree of risk than using a credit card.
Here's a list of some of the riskiest places when using a debit card.
Very Expensive Products. In general, the more expensive the item you intend to purchase, the better off you will be if you purchase it with a credit card instead of a debit card. Many credit card companies automatically provide extended warranties for any items purchased, so the value of this additional warranty coverage can be quite significant for expensive products. Purchasing an item with a credit card provides greater rights to dispute a purchase if problems arise. Of course, consumers shouldn't use a credit card instead of a debit card because they can't afford to pay for the item using a checking account.
Gas Stations. Unfortunately, one of the most routine purchases for many of us – buying gas for our cars – can be the biggest hassle when one pays with a debit card. Many gas stations will impose a $50 or $100 funds hold on a debit card payment, even if only $5 or $10 in gas is purchased. If a consumer has a low balance in the underlying debit card account, having this hold in place can lock up an entire account.
Hotels and Rental Cars. Hotels and car rental companies also impose holds on your account similar to those that are imposed by gas stations. But because the underlying services are so much more valuable, the amounts of the holds for these types of vendors can be significantly higher.
Shopping Online. Remember that a debit card is linked directly to your checking account. If you shop online at a retailer you're not familiar with (or if you shop with a retailer that doesn't adequately protect your financial information and then becomes hacked), then you're risking unauthorized activity on your account. It's true that your account has some level of antifraud protection, but even though your ultimate financial liability may be minimal, you'll still lose time (and have a lot of headaches) trying to get the situation resolved.
Unfamiliar Restaurants. There's a period of particular vulnerability every time you use your debit card at a restaurant. When you pay your bill, your server takes your card back from your table to the point of sale machine. Unfortunately, when your card is out of your sight you don't know exactly who else may be copying down your card information.
Recurring Payments. One of the biggest conveniences of a credit card is being able to sign up to make recurring payments (such as your gym membership, cell phone bill or DVD delivery service). Unfortunately, trying to make similar recurring payments with a debit card can be difficult to administer.
A debit card can be a convenient way to access the funds in your checking account, provided that you understand places and situations where you may not want to use your card.
Tags: Banking Advice, checking account, debit card