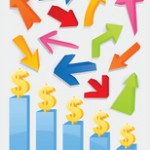 Long gone are the days when we could effectively run our households with the cash from just wallets or purses (after cashing our weekly paycheck), or perhaps by using a simple checking account. Instead, consumers now have multiple financial accounts, likely including one or more checking accounts, bank accounts, and brokerage accounts. And we probably end up having to spend time and effort transferring money back and forth between these accounts.
Even if one doesn't have a large number of different financial accounts, it's still important to make sure that you are doing these transfers as efficiently as possible, without spending unnecessary time or energy.
Here is some advice on how to best manage bank transfers between accounts.
Understand the Applicable Fees. In today's internet age, it's not surprising that most of the transfers we do between our accounts will happen electronically. There are several different ways to accomplish these transfers, each of which could involve its own fee or service charge. Wiring funds often involves significant fees, for example, whereas your bank or financial institution may offer a free transfer service using Automated Clearing House transfers.
Understand the Timeframe for Transfers. Depending on why you're transferring funds between accounts, knowing how long it takes before a transfer occurs could be very important. For example, if you're transferring money from your savings account to your checking account in order to make a monthly mortgage payment, or from your checking account to your brokerage account in order to make a particular investment, then it's important to understand how long you have to wait before your funds are transferred.
Understand any Caps on Number of Transfers. Some accounts may limit the number of electronic transfers one can make into or out of an account during any particular month. Other accounts a certain number of transfers for free in a given period, but then charge for any additional transfers. It's important to understand any caps that may apply to accounts (or any supplemental fees that may be charged if the number of transfer exceed a certain number) so that the process of transferring funds between accounts doesn't end up costing too much.
Don't Assume that Transfers Within a Single Institution are Hassle Free. Even when you transfer funds between accounts that are within a single institution, you can't always assume that the transfers will occur instantly or occur with a fee. In fact, sometimes intra-bank fees can be even more than you'll pay to transfer funds between different institutions.
Don't Forget About Checks. If you can't accomplish a funds transfer with as low cost as you'd like, don't forget that you can always use personal checks to do so. You might slow down the transfer process a bit, but it could end up saving you money.
The best way to avoid the hassles with transferring funds between accounts is to plan ahead with your deposits so that you don't have to do any transfers in the first place.
Tags: Banking Advice, checking account, money transfer, transfer money