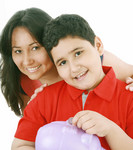 Good financial practices don't necessarily come quickly or automatically for many individuals. In general, the earlier a person can develop a consistent saving routine and make that a part of their normal day-to-day behavior, the more financially secure they'll be later in life. Ideally, this means learning about personal finances during childhood.
Saving is a particularly important practice to develop. A piggy bank can be the most convenient, most straightforward and most effective way to start helping your child learn this behavior. But as soon as they've got the hang of putting spare change into the bank, and being able to leave it there for some length of time without spending it, you'll want to transition them to a bank account.
Check With Your Current Bank. The first place to look will probably be the bank or credit union at which you currently do business yourself. They may have special offers or accounts that are only available to children of their customers, or be willing to waive any fees or charges if you set up a child account.
Furthermore, if you give your child an allowance, you can use electronic transfers to transfer those funds directly into their account. This can help teach them the lesson that in this day and age, "money" means more than just "cash."
Limited Access Accounts. Passbook accounts are a common vehicle for a child's savings account. Some financial institutions still provide a physical account book for the child to monitor their deposits, withdrawals and account balance. This helps them learn the concept of saving beyond simply adding coins and bills to a piggybank. These can be most appropriate for the youngest savers.
Online Accounts. At the other end of the spectrum are accounts at online only banks. These accounts have the advantage of putting a little extra distance between a young saver and the money that they may be tempted to spend. Older children should have no difficulty understanding the online nature of their savings, and logging in to monitor their accounts.
Consider ATM Access Carefully. When we talk about children, we're really talking about any minor that lives with you, and this includes older children, as well. If you have one or more teenagers at home, then you already know how their financial lives are significantly different than they were at a younger age. Ask yourself whether it's appropriate for the bank account you open with your child to have ATM access. Take into account your child's spending habits, and whether they have a job.
Is Direct Deposit an Option? If your teenager does in fact have a job, then also look for accounts that give them the option of signing up for direct deposit. Having their paychecks deposited directly into their accounts, rather than having the option to receive part of the check back in cash every time they deposit it, can damage their long term savings.
The most important considerations are how responsible and how ready your child is to handle their own account, and how closely you want to supervise them.
Tags: Banking Advice, child bank account, teenage banking