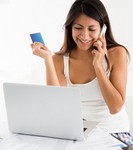 The fees and charges we pay to our banks can add up over time. Considering that many of us use the same banking institution for years or even decades at a time, paying even just a few dollars more in fees each month can end up costing us a lot of money.
After all, it's easy to keep doing business with the same institution, since switching banks can take a bit of time and effort. But in some cases it may be worth considering making the switch. There are many online banking institutions that have successfully transitioned from the traditional bank branch-centric business to a thriving online-only banking business.
Here are some of the categories of expenses you'll want to evaluate and compare when deciding whether it may be better to do business with an online bank.
Monthly Account Fee. This type of charge goes by many different names. You might be familiar with it as a "maintenance fee," for example. This type of charge is assessed simply for the privilege of having the account at the bank.
You might be able to avoid these fees in a couple of different ways, including by maintaining a higher average balance or minimum balance, by having other accounts at the same bank, or by using direct deposit, but then you'll need to make sure you're always meeting those other obligations. Many online banks offer truly free accounts without charging monthly account fees.
Overdraft Fees. One of the biggest fees you can be hit with occurs whenever you become overdrawn on your account. In many cases, being overdrawn by any amount (even a very small amount) can trigger these fees.
When considering an online bank, inquire as to what type of overdraft protection they offer. Remember that if you become overdrawn on your checking account; you'll not only face fees from your bank, but potentially also from the merchant that you tried to pay.
ATM Usage Fees. Most local banks will provide you with free usage of their own ATMs. (Of course, this isn't always the case, so it's worth verifying when you get your next monthly account statement.) However, most will charge a fee when you use another bank's ATMs, and this fee can be up to $5 per use, or more. Most online banks have generous ATM fee reimbursement programs that have the potential to save you a lot of money each month.
Bill Pay Service Fees. An increasing number of banks are charging fees for customers to use their online bill pay services. These fees can vary widely both in terms of the amounts charged as well as how and when the fees are imposed. For example, some banks may charge a relatively high fee (perhaps upwards of $10 per month), but then waive that fee whenever you make more than three payments in a calendar month. An online bank is much less likely to impose these types of fees.
If you're willing to do a little research, and put in a little work to move your business, switching your accounts to an online bank could save you money.
Tags: Banking Advice, Online Banking, saving money