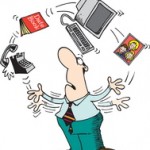 As new regulations come into force, many banks and credit unions are changing their fee structures. Sometimes fees will be increased, occasionally they'll decrease, and sometimes new types of fees will be created. At some point you may decide that your current bank's fees are too high, and that you want to pay less for the services you use. Or you may decide that you're dissatisfied with the level of service that you're currently receiving, and want to take your banking business elsewhere.
In either case, you need to make sure that when you change to a new bank you don't lose time or money when you transfer your account funds.
Here is some banking advice and tips to help you make switching banks as trouble-free as possible.
Find a New Bank. When you're looking for a new bank or credit union, you'll find plenty of options. But not all of them are going to be better than your current bank. Take a look at your current banking habits and identify the areas in which you'd like to save on fees, or have access to better account features. Narrow down your available choices to those banks and credit unions that can provide you a better overall deal.
Ensure an Overlap in Accounts. You won't want to close your old account before you have your new account set up. What's the advantage of having more than one account open at once? When you have your new account in place before you close your old one you'll be able to have your account funds transferred electronically, which saves the hassle of having to pay for and physically transfer a cashier's check. If you fund your new account by withdrawing money from your current account, make sure not to withdraw an amount that would drop your balance in the current account to a level that would trigger additional fees.
Continue Paying Your Bills. Having your new account set up before you close your existing account will also help you make sure that you continue to pay your bills on time. Switch any automatic bill payment programs over to your new account, but verify that the changes are processed in time to meet your current obligations. If your bill payments are not set up through your bank, but through the payee itself, then you might need additional time to contact those companies and have your change requests processed. Wait to close your old account until you are sure all checks have cleared, all pending payments have been made, and all recurring electronic bill payments have been set up on the new account.
Consider Your Other Financial Activities. Opening a new bank account will likely result in the new institution running a credit check on you. If you're currently shopping for a mortgage or car loan, be aware that this additional inquiry could potentially affect the outcome of your loan application. If possible, wait to switch your account at a time when you aren't applying for any major loans.
Unfortunately, our own inertia can sometimes keep us from seeking out the best possible deal for our banking business. If you know you can save by switching your business, follow the guidelines above to make sure you don't end up unnecessarily costing yourself time or money.
Tags: Banking Advice, bill pay, checking account, switching banks