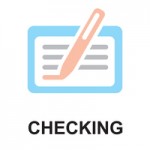 Checking accounts are essential to managing our day-to-day personal finances. We deposit most or all of our paychecks into our checking accounts, and we use that account to pay our bills, manage our households and conduct practically every other financial transactions we make.
Given how important checking accounts are, it's a bit surprising that we don't always do the right things when it comes to how we manage them. People make far too many mistakes when it comes to their checking accounts, and while the consequences of a single mistake might not be too serious, the total effect of multiple mistakes over time can be quite significant.
Here is some banking advice and tips for avoiding some of the most common mistakes.
Paying to Withdraw Cash. One of the most convenient features of a checking account is the ATM card. This gives you the ability to access cash from any ATM machine operated by your bank or a partner network. Unfortunately, this convenience often comes at a price. Using another bank's ATM machine to access your account will typically incur a fee charged by that other bank (and sometimes even a fee from your own bank. This is something you should always be trying to minimize or eliminate. If you need cash for an emergency, then paying a few dollars for ATM usage probably isn't a big deal. But if you always seem to find yourself out of cash, and using different ATMs all over town, then address that issue instead of racking up fees.
Not Meeting Minimum Balance Requirements. There's a good chance that your checking account has a minimum balance requirement. (If not, then check to make sure you aren't paying monthly account fees instead.) Usually, falling below your minimum balance will trigger a fee from your bank. While you might not be able to avoid dipping below the minimum balance level because of a significant and unexpected one-time expense, if you find yourself always near the minimum level, and often paying fees as a result, then consider switching to a more appropriate account.
Having the Wrong Kind of Account. Your local banks and credit unions probably offer several different types of checking accounts. Be sure to compare checking accounts to find the best one for you. These different accounts have different levels of fees and service, and are designed for individuals with different financial profiles. Make sure you're using the account that best fits your needs.
Not Taking Advantage of All Account Features. Chances are your checking account offers a number of different features that could be saving you time, money or both. For example, you can use online bill payment (a standard service with many checking accounts) to set up automatic payments for bills that are generally the same amount each month – like your cable and Internet bills, and to pay your other bills with a couple clicks of your mouse. This can save you time each month, as well as money from not having to buy stamps, and you don't have to worry about anything getting lost in the mail.
By eliminating these mistakes you'll be able to save yourself a fair amount of hassle and aggravation, as well as saving yourself some money.
Tags: atm fees, Banking Advice, checking account, checking fees