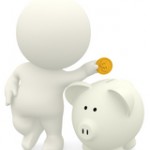 Along with "when should I start giving my child an allowance," one of the early financial questions a parent is likely to face for their child dealing with money is likely to be when to get them their first savings account. You'd like that first savings account to be something that your child genuinely takes an interest in, so that they start wanting to save, instead of you having to constantly remind them to do so.
The answer to the question will vary for each child, of course. But there are some factors you can take into consideration when trying to decide that age for your child.
Teaching a child how to save money will give them a valuable life lesson. Your child may be ready for a savings account when one or more of the following things are true.
When They Start Asking Questions About Money. As soon as your child starts asking questions about money, they might be ready to have their own bank account. The concept of money comes at different times for different children, so once they start being inquisitive as to how money works a bank account can be a great tool to help you teach them.
Whenever You Find a Good Deal. Because it's quite possible that your child's savings account won't have a particularly high balance (at least in the first few years after you open it), it's important that you not open an account which would require you to pay any sort of maintenance or account fees. It might be uncommon to be able to find a savings account for your child which also pays a good rate of interest, so be ready to open a new account if you can find a bank offering a good return.
When Relatives Give Cash Gifts. When your child gets to an age where their aunts, uncles and grandparents start giving them cash or checks as gifts, then it's probably a good idea to have a savings account in place to help your child save at least part of those gifts. (You probably won't want to insist that they save all of those cash gifts, but you might want to set an expectation that they save perhaps one-fourth or one-half of each cash gift they receive.)
When Starting an Informal College Fund. There are a number of tax advantaged accounts that can be set up specifically to help you save for your child's college expenses. While these focused accounts can be a great benefit, some parents prefer to start the "college fund" more informally. A savings account can be a perfect way to start the process, while allowing your child to participate and feel like they're a part of that process.
If none of these things happen by the time your child reaches second or third grade, you might consider opening a savings account anyway. Sometimes, when a child has a savings account, the account itself becomes the catalyst for them to start learning more about money.
Tags: Banking Advice, child savings, savings account