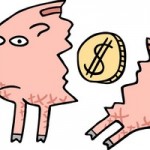 As we all know banks have been hit very hard with the economic downturn and they are searching for more and more "nickel and dime" charges to pass along to consumers to increase their earnings.
Here are some suggestions for avoiding two of the more common fees that banks assess:
Don't use another bank's ATM. Over 99% of ATM's now impose a surcharge that now averages almost $2.00 on cash withdrawals if you are not a customer of theirs. To avoid these ever-growing fees, use your debit card to make a purchase, and just ask for cash back.
Keep your check book in balance to avoid overdraft fees. Overdraft fees are now as high as $40 at some banks. You can avoid these fees by ensuring that you keep a cash cushion in your checking account.
Tags: atm fees, Banking Advice, banking fees, Checking, checking fees, overdraft fees