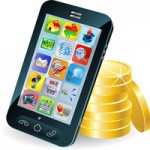 With interest rates for savers so universally low, banks are having to find non-financial ways to compete for new customers. As you might expect, one of the ways that banks and credit unions are competing is by offering powerful and convenient new services to their customers.
One of the most popular types of services is mobile banking; being able to conduct electronic banking transactions away from your bank, when you're not at your desktop or laptop computer. As banks continue to expand the range of services that they offer to their customers, the mobile and remote access services continue expanding as well.
Here are some of the best mobile banking services that you should consider using.
Citi's Payment Tag. Citi offers a payment tag that you lightly tap against a PayPass reader in order to make small purchases (up to $50) without having to take your credit card out of your pocket. Users usually attach the payment tag to the back of their cell phones, so that it's always at the ready. This Citi service is known as "Tap & Go." Tap & Go with the payment tag is one implementation of the existing PayPass technology that MasterCard incorporates into some of its credit cards.
Wells Fargo CEO Mobile. For business owners, the Wells Fargo CEO Mobile app allows them to conduct a number of different business banking transactions using their smart phones. In particular, the CEO mobile service will allow the user to monitor accounts, approve transactions, manage insurance certificates and even initiate and approve wire transactions for their businesses.
Remote Deposit. One of the most popular mobile banking services – remote deposit – is currently offered by a number of different of institutions. With a remote deposit app on your smartphone you can deposit checks into your account without ever having to visit your bank. Remote deposit apps work by having you take photos of the front and back of any check that you want to deposit, after you endorse the back. Your bank then uses those images to process the deposit as if you actually deposited the paper check.
Mobile Deals. Some banks are branching out their services to include sending member deals to their customers. For example, MasterCard offers several different programs, including its MarketPlace and "Priceless" programs. The MarketPlace program offers daily deals to cardholders, and the Priceless program allows cardholders to take advantage of special premium offers. The mobile app for the Priceless program can check the user's location via GPS and deliver geo-targeted offers to them on the go.
Smart phones are powerful tools that you can use for a variety of personal finance tasks. Check with your bank or financial institution to see which of the above mobile banking services they provide.
Tags: Banking Advice, mobile banking, Online Banking