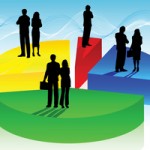 The way we spend money has changed a great deal over the years. It's hard to believe that there was a time when cash was the only payment option we had. Today, we've got checking accounts, debit cards, credit cards, and electronic funds transfers as methods to pay for our needs and wants.
These tools offer lots of convenience, and in theory they should make budgeting easier since everything is reported on a monthly statement. But it doesn't usually work out that way. Most of us have multiple accounts these days, and keeping track of them all can be an exercise in frustration. This often results in overspending and makes it difficult to keep a budget.
Banking and budgeting software can help you keep your finances on track without losing your sanity. Here is some advice on a few of the better programs for the job.
Quicken. The granddaddy of financial software, Quicken is still a very popular choice. Its various downloadable versions offer tons of features that not only help you keep track of your bills and savings, but also allow you to track your investments, organize your business finances and manage rental property transactions. Prices vary depending on which version you purchase.
MoneyDance. A less expensive alternative to Quicken, MoneyDance offers features such as graphing, bill reminders and mobile capabilities. Its easy-to-use interface is much like a check register.
Mvelopes. You've probably heard of the envelope budgeting system, which worked well when people kept cash that they could put in envelopes designated for various expenses. Mvelopes has taken that system and made it work with today's way of spending. You can try before you buy with a free trial, and if you like it you can pay for a term of up to two years at a time.
PearBudget. A simple piece of budgeting software that's perfect for ordinary household expenses, PearBudget is easy to set up and allows users to create their own expense categories. And it's easy on the budget since it offers a free trial and a very reasonable monthly fee.
Mint. This is one of the most popular free pieces of money management software, brought to you by the makers of Quicken. It offers a number of features that are usually reserved for more expensive programs, such as automatic importation of transactions and suspicious activity alerts.
GnuCash. Another free option, GnuCash is available for Windows, Mac, Linux, BSD and Solaris operating systems. It has plenty of options for both personal and small business finance, and it's based on professional accounting principles.
MySpendingPlan. Like Mvelopes, this free online budgeting software uses a modified version of the envelope system. It also helps you save money with helpful articles, free coupons and more.
In our busy lives, and with multiple accounts to keep track of, trying to keep track of your budget with pencil and paper can seem next to impossible. Using banking and budgeting software will save you loads of time. But most importantly, it can save you money and help you plan your financial future.
Tags: Banking Advice, banking software, budgeting advice, budgeting software