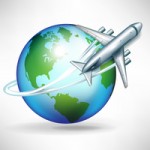 One of the last things a consumer wants to worry about while on vacation overseas is losing their spending money (if one carry a lot of cash), or having to worry about the hassle of replacing lost travelers checks. Because of the increasing prevalence of worldwide ATM networks, many people now simply use their ATM cards to address those concerns.
But using an ATM card while on vacation abroad has its own set of issues, including those relating to security, costs and fees, and ease of use.
Here is some banking advice and tips for making the best use of your ATM card while you travel abroad.
Know Your Bank's Rules. The most important thing to do, before you even leave to begin your vacation, is to get a solid understanding of all of your Bank's rules regarding your ATM card. It's particularly important to understand the additional banking fees that may apply for using ATMs abroad, as well as any currency conversion charges relating to withdrawing funds in the local currency.
Let Your Bank Know You're Travelling. Another thing to do before you start your vacation is to advise your bank that you're going to be traveling abroad. Many banks and credit card companies are taking a pro-active stance to protect against unauthorized card use, so having withdrawals or charges all of a sudden start to show up from a foreign country can trigger an automatic hold or freeze on your account. By letting your bank know ahead of time that you're going to be traveling, these types of transactions won't be flagged as unusual activity.
Reduce Your ATM Use. Every time you use an unfamiliar ATM there are risks of a card skimmer lifting your account information. Consider reducing all the risks relating to ATM use by using ATMs less frequently, and simply withdraw a bit more cash each time.
Get a Prepaid Card. Depending on where you're traveling (since some vacation destinations are considered to be a higher risk than others), you might want to leave your ATM card at home and simply get yourself a prepaid card for the trip. Visa, MasterCard or American Express all offer cards that let you make charges in stores, as well as withdraw cash from ATMs. Using this approach keeps your bank account completely safe, while capping any potential loss you may suffer (i.e., the value of the prepaid card).
Have a Backup Plan. Finally, make sure you have a backup plan just in case something happens to your ATM card. Just ask yourself what you'd do if the ATM in another country keeps or freezes your card? Do you have other ATM or credit cards? Do you have a way to have emergency cash wired to you quickly from the U.S.? Planning for such contingencies can do a lot to reduce your stress while traveling.
Finally, be sure to save all ATM receipts from your trip. If there's ever a dispute afterwards to an amount of a withdrawal or fee that was charged, you want to be able to have records to make sure that you don't get charged more than you should.
Tags: ATM overseas, Banking Advice, travelling overseas