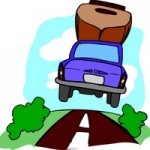 Summer is here. The kids are out of school, and the adults are ready to take some time off work, kick back and enjoy the beautiful weather. Unfortunately, the state of the economy has made lavish summer vacations to exotic locales nothing more than a dream for most of us.
But all is not lost. A summer vacation doesn't have to be expensive to be fun and relaxing. Sure, a luxury cruise or a week-long stay at a five-star resort would be nice, but there are plenty of less costly activities that will allow you to unwind and bask in the sunshine.
Here is some advice and tips to help you enjoy your summer vacation while saving some money.
Go camping. You don't need an RV or even a small camper to do it. Buy a tent and some sleeping bags, load up the grill and some food, and head out to the campground. Or better yet, ask a friend or relative who owns some land in the country if you can camp out there. Vacations don't get much cheaper than this, and you'll learn to appreciate nature in a whole new way.
Check out some cruise deals. Some cruises are quite expensive, but there are budget cruises that cost a couple hundred dollars a person or less. And when you consider all that's included (lodging, meals, transportation and activities in multiple locations), that's a pretty good deal. But if you live far from the coast, you'll have to factor in your transportation to the origination point and back home, too.
Take a staycation. Just hanging out around the house gives you a break from the daily grind. Turn off the computer and have some good old fashioned family fun in the back yard. Or visit local attractions that you've taken for granted, such as museums and parks. If you're willing to shell out a little more cash, take a day trip to a nearby theme park.
If you're traveling, do so by land if possible. Rail or bus is often the cheapest way to go. If those aren't an option, even driving your own vehicle is cheaper than flying. Change your oil and air up your tires before you go to maximize your gas mileage.
If you plan to fly, seek out the best deals on tickets. Avoid flying on holidays and holiday weekends, because that's when prices are highest. Check the leading travel websites to find great deals on flights and hotels.
Getting away from it all doesn't mean you have to travel a long way. A simple change in scenery, or even a break from your everyday activities while staying close to home, is good for the soul. And since you aren't spending a large amount of money, there will be no financial regrets down the road.
Tags: Banking Advice, Budgeting, saving money, summer vacation