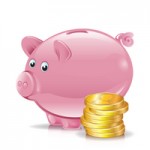 When you open a new savings or checking account at your local bank or credit union, you may be asked if you also want to open a money market account. Money market accounts are similar to savings accounts except that they generally offer higher interest rates, have a higher minimum balance requirement, and only allow you to make a few withdrawals each month.
If you've never had a money market account before, then you might not be familiar with the situations in which having such an account makes good financial sense.
Here are some instances in which it might be time for you to open a money market account.
Are You Having Difficulty Keeping Your Emergency Fund Separate? When people first start to build their emergency funds, it's often common to simply make additional deposits to their checking or savings account, and try to keep track of how much of their total account balance represents their emergency savings. The problem is it can be too easy to use your emergency funds for other purposes when they're comingled with your other funds. Opening a separate money market account for your emergency fund can be a great way to make sure that money only gets used for its intended purposes.
Are You Self-Employed or Do You Own a Business? If you're self-employed or own your own business then you probably have to make quarterly tax payments to the Internal Revenue Service. You may have discovered that unless you regularly set money aside to be able to make these payments, you'll have problems in coming up with the cash to meet your tax obligations. A money market account can be a great vehicle for keeping the money for these tax payments separate from your other funds.
You Want to Save for a Car or Down Payment. For some large ticket items you'll be able to save money on interest charges by saving up to make the purchase in cash or to have the largest possible down payment. For example, being able to pay cash for your next car can save you from the interest you'd pay on a car loan, and having a 20% down payment when buying a home can get you a lower interest rate on your mortgage compared to only making a 10% down payment. Having a separate account, like a money market account, that you can use to build up your savings can help you accumulate those funds more quickly.
Can You Meet the Minimum Balance Requirement? As noted above, one way that money market accounts different from other bank accounts is that they generally require a high minimum balance. The minimum balance requirement can be as high as $2,500 for a basic account, or even higher for those that pay the highest interest rates. Before you open a new account, be sure that you'll be able to maintain the required minimum balances.
A money market account can be a great way to meet certain financial goals you may have, and to stay on top of your personal finances.
Tags: Banking Advice, emergency fund, saving money, savings account