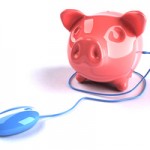 Many of us already have savings or checking accounts at banks that offer online services. With online banking through our local banks, we can check our balances online, transfer money between different accounts, and pay our bills. But did you know that there are some banks that only offer accounts online?
At first glance, you might wonder why someone would open a savings or checking account with a bank that they can't actually visit in person. The answer is money. Because online banks do not maintain physical locations they can keep their costs very low, and can use that savings to offer interest rates that are significantly higher than local banks. In some cases the rates with online banks can be four or five times greater than traditional banks. The higher interest rates are generally available for savings accounts, checking accounts, and certificates of deposit at these online banks.
The most reputable online banks are FDIC insured to the same degree as traditional banks, so your money is safe. All you need to do is a search for "online savings" and you'll see many well known online banking firms that offer higher interest rates than a traditional bank. Here is some banking advice to get you started.
Opening a New Account. It's generally easy to open a new account with an online bank; the bank's account application can usually be completed almost entirely online. The bank will require you to submit a signature card, and this can be done either by printing out the application, signing it, and mailing it to the bank, or by requesting that a signature card be sent to you. Some have even developed an online e-Signature.
Funding a New Account. There are several different ways to fund a new account with an online bank. The account can be funded by mailing in a check, or by an electronic funds transfer. An electronic funds transfer is done by providing the new bank with the account number and ABA routing number of your existing checking account. (The routing number is the nine-digit number that's just to the left of your account number at the bottom of your check.) You can also make a wire transfer to fund your new account, although your bank would likely charge you fees to make the transfer.
Accessing Your Account. Online checking accounts, like traditional checking accounts, are more flexible and convenient than savings accounts. Online checking accounts generally offer free debit cards and checks, and many online banks are part of nationwide ATM networks that you can use for free as they offer rebates for ATM surcharges. Because online banks do not have physical locations, you can't get immediate access to the money in an online savings account. Funds can be transferred from the savings account to another account, although it might take several days for the transaction to be completed. In addition, federal law limits online savings accounts to six electronic transfers per month.
For many individuals, the inconvenience in accessing the money in their online savings accounts is more than outweighed by the significantly higher interest rate they earn.
Tags: Banking Advice, Online Banking, online savings