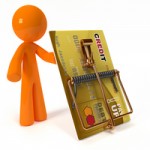 If you're getting ready to send your son or daughter off to college, you've probably worked with them to prepare a checklist of things they'll need to take to school. Along with the various dorm room essentials, you'll need to consider whether one of the things they'll need at school is a credit card.
Recently passed laws have made it significantly more difficult for a college student to get a credit card on their own, unless they're able to demonstrate an independent and adequate income. You may decide to help your child obtain their first card, but first you need to decide whether your college age student should have a credit card.
Here's some banking advice to consider on whether your college age student should have credit card.
Behavioral and Maturity Risks. While anyone can be at risk of making bad decisions with a new credit card and spending beyond their means, statistics suggest that college students are often at particular risk. This may be due in part to the fact that for many students their college years are the first time they're away from home – and some of them will require a bit of time before they successfully bridge the gap from childhood to adulthood. Some students have a full appreciation for the financial implications of their spending decisions, while others might not be properly prepared for the realities of personal finance. The more mature your child is, and to the extent that they've made good financial decisions in the past, the more likely it is that they can handle the responsibilities of having a credit card.
The Student's Needs. Depending on the situation, it might be quite important for a student to have a credit card. A student who doesn't have a full meal plan at a dining hall, or who lives off campus, will likely have a much greater need for a credit card than a student who lives in the dorms and can eat all their meals at the dining hall.
Is a Parent or Family Member Willing to Help? In some cases, particularly if the student doesn't have a significant source of income for themselves, a co-signer may be required for the student to be approved for a student credit card. This co-signer will ultimately be responsible for any charges incurred by the student if they default, so the decision to co-sign should not be taken lightly.
Can They Get One On Their Own? If the student is working while in school and generating their own income, then it's certainly possible for him or her to apply for their own credit card. Keep in mind that if approved, any such credit card is going to have a significantly lower credit limit than a card that they could get with a co-signer. This might be a good thing, or it might be a bad thing, depending on whether your child will need a card with a higher credit limit.
New college students will face a lot of new things, and one of them will be a new level of financial responsibility. If it makes sense for your student (and for you), then a credit card might be just the thing to help them grow.
Tags: Banking Advice, credit card advice, student credit card