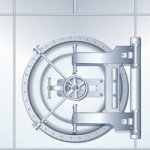 Safe deposit boxes are a common bank and credit union offering, yet they're often misunderstood. Many of us are only familiar with safe deposit boxes based on what we see on television and in the movies, and on that basis we might think their primary use is for storing priceless jewelry or stacks of cash.
In truth, safe deposit boxes may be useful for everyone who has something important that they want to keep secure. This might include jewelry and financial documents, but it might also include irreplaceable personal items.
Here are answers to some of the most common questions that people ask about safe deposit boxes.
What is a Safe Deposit Box? A safe deposit box is a secure and fireproof box that is rented from your bank. It's stored in a protected area of the bank and is only accessible by key. You or someone you designate are the only people with access to the box, which makes it a good place to store valuables and important documents.
Are the Contents of a Safe Deposit Boxes Insured? Despite the fact that the box is rented from a bank, safe deposit boxes are not insured by the FDIC. The reason is that the contents are not verifiable by the bank, since you don't need to inform the bank what you're storing in the box.
Why Not a Home Fire Safe? A safe deposit box is often considered much safer than a home fire safe because it is located in a highly protected area. Given the security systems in place at your bank, a thief cannot walk away with a safety deposit box as they can walk away with a fire safe from your home.
What Should I Store in a Safe Deposit Box? The FDIC recommends storing the following in your safe deposit box:
– Originals of your insurance policies;
– Family records such as birth, marriage and death certificates;
– Original deeds, titles, mortgages, leases and other contracts;
– Stocks, bonds and certificates of deposit;
– Jewels, medals and collectables; and
– Negatives for irreplaceable photos, and videos or pictures of your home's contents for insurance purposes (in case of theft or damage).
Who Has Access to the Box? There are a number of ways you can set up your safe deposit box account. You can be the only person with access. Or you can co-rent a box with your spouse, a partner, or a family member. You can also designate someone to have access in case of an emergency or your death, as through a power of attorney, for example. In order to access the box a person needs to have a key to the box as well as proper identification.
Keep in mind that safe deposit boxes are only accessible during normal banking hours (and sometimes not on weekends, even if the bank is open). Don't put anything in your safe deposit box if you anticipate that you might need quick and immediate access to it. With that in mind, safe deposit boxes are a great idea to help add a layer of protection for the documents and belongings that mean the most to you and your family.
Tags: Banking Advice, safe deposit box