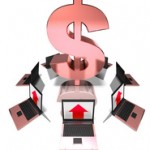 College isn't something that most kids start thinking about until their high school years. But for parents, it's never too early to start planning for higher education. College costs aren't getting any lower, and it would be a shame to be unable to send a child who is eager to learn to a good school due to lack of financial preparation.
Saving for college isn't something that most parents understand very well. It's not as if we learn about it in school. Here is some advice and recommendations to help you get started.
Get an early start. It might seem a bit silly to start saving for college when your child is just a baby, but that's a very good time to do so. Starting early allows you to put away less money each month and still have a healthy college fund by the time your child is ready to use it.
Look into the advantages of college savings plans. There are several different types to choose from, so take the time to study them all and choose the one (or ones) that best meet your needs. Contribution limits vary among plan types, but most plans offer some attractive tax benefits. A financial advisor can help you make sense of it all.
Consider a prepaid tuition plan. These plans allow you to lock in tuition costs at current rates, so you don't have to deal with the uncertainty of how much college will cost by the time your child is ready to go. And you don't have to commit to a certain college. These plans are administered by states, and they allow the student to attend any public college within that state. If he decides to go to a private or out-of-state college, however, he may have to pay extra.
Put money into the account on a regular basis. You could set aside a certain amount from each paycheck or make payments once a month. You could even set it up so that payments are automatically drafted from your checking account.
Put extra money into your child's college savings account when possible. If you get a bonus or tax refund, you could deposit all or part of it. Just remember to stay within the annual contribution limit to avoid penalties.
Put college savings accounts in the parent's name instead of the child's. This ensures that the parent has control over the money, and it will reduce the effect of the balance on the child's financial aid prospects.
When it comes to saving for your child's education, the sooner you start, the better. By carefully choosing a savings plan and contributing to it regularly, you can ensure that your child will be able to attend college.
Tags: Banking Advice, college savings