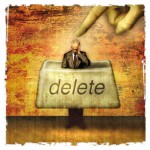 In a Senate hearing on October 23, 2008, former Fed Chairman Alan Greenspan referred to this financial crisis as an "economic tsunami". He was right back then, and now everyone needs to hunker down and get prepared for an economic rollercoaster.
If you have concerns you may be laid off, there are certain steps you can take now to alleviate the pressure and stress should this eventuality occur.
1. Put away enough money to cover expenses for the next 18 months. Normally 6 months is sufficient but due to the market volatility and potential difficulty is finding a new job 18 months is more advisable at this time.
2. Pay down credit card debt. No sense paying your bank 18%+.
3. Re-visit your household budget and make necessary adjustments to save money.
4. Try to continue and/or increase contributions to your 401K Plan. You need to look out for the long term.
5. If you own a home outright, look into an equity loan. However, note that your home's equity likely decreased 20% or more over the last 18 months.
6. Obtain your credit reports and check them thoroughly.
7. Check your insurance coverage for health, life, and auto to ensure you have the appropriate coverage. Make certain all policies are up to date.
8. Contact credit card companies and request a reduction in interest rates.
9. Call either your cable or telephone provider and ask what the price is for cable, telephone, and internet usage. Sometime combining all three of these services from one provider will save you some real money. Also be on the lookout for the aggressive pricing incentives these providers are now using to attract new customers.
10. If you have both a landline and a cell phone, consider dropping the landline.
11. If you have internet service, check into utilizing Vonage, VoIP, or Skype as alternatives.
12. Research online coupon sites and bookmark them for later use. There are coupon sites available for groceries, household, and non-household items that offer discounts, printable coupons, and rebates.
13. Do not renew magazine subscriptions or subscribe to new ones.
14. Buy groceries in bulk at one of the many "factory" stores.
15. If you buy clothes, choose those that do not require dry cleaning.
16. Better insulate your home.
17. Conserve energy by lowering the thermostat and unplugging appliances when not in use. Shut down the computer instead of keeping it in sleep mode. Purchase energy-efficient light bulbs and ceiling fans that utilize less wattage. Clean air conditioner filters frequently, and keep blinds open during daylight hours to heat your home instead of raising the thermostat.
18. Select one day to shop and complete all errands, thus saving on gas.
19. Use public transportation whenever possible.
20. Refrain from buying coffee, snacks, lunch, lottery tickets, and any other non-essential items that you purchase on a daily basis.
Now is the time to save money and not spend it in a wasteful and impulsive manner. We will all have to make difficult choices and sacrifices during this recession. Prepare for the worst and hope for the best.
Tags: Budgeting, layoff, saving money