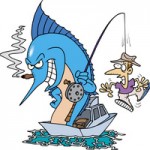 The Federal Deposit Insurance Corporation has placed more and more banks on its "watch list" of troubled institutions. This continues to create worry amongst the public at large. This has created a new type of phishing email.
Popular phishing attacks, emails that are designed to capture private information from consumers like social security numbers and passwords, have historically used schemes like online access to your account has been blocked click here to unblock your account. The naïve consumer would simply enter this information into a page that looks like it's from your bank, however the page is being hosted by a firm that will use this information to illegally access your account.
The newest scam is telling consumers that their bank has been seized by the FDIC and due to concerns about safety and security of our new customers they need to renew their account information by clicking the link below. These sites look quite official, however they are again illegally capturing your private information.
Tags: Banking Advice, Online Banking, phishing, phishing alert