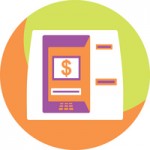 Good news for consumers! Earlier this summer a number of new rules on what banks can charge for overdraft protection went into effect. Previously banks automatically provided overdraft protection to consumers who make ATM withdrawals or one-time debit card transactions that caused their accounts to become overdrawn. However, such coverage often incurred a fee of $35 or more. As a result, consumers paid an estimated $38 billion in overdraft fees in 2009.
The new Federal Reserve rules prohibit banks from charging consumer fees for paying overdrafts on ATM and one-time debit card transactions, unless a consumer opts-in to the overdraft service for those types of transactions.
Before opting in, the consumer must be provided a notice that explains the financial institution's overdraft service, including the fees associated with the service, and the consumer's choices. If the consumer does not opt-in for the overdraft service, everyday debit card and ATM transactions will be declined if there are insufficient funds in the account. However, no overdraft fee will be imposed.
Consumers who elect not to have overdraft protection may have other, cheaper alternatives. Some banks offer customers a line of credit or a link to their savings account to cover transactions that overdraw an account. There may be a fee for this service, but the fee is generally less expensive than standard overdraft fees.
You should carefully read the notices you receive from banks on overdraft policies and pay close attention to the fee scale. If you opt in for standard overdraft protection, financial institutions call still assess multiple overdraft fees for each banking day and continue reorder transactions to generate more opportunities to assess overdraft fees.
Information about the new debit and ATM card rules from the Federal Reserve is available here.
Tags: ATM, Banking Advice, debit card, overdraft