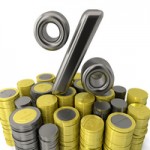 A checking account often represents a person's first step into the world of banking. It is a wonderful tool for managing your money, and it makes paying bills and making purchases convenient because you don't need to carry cash. But one thing the average checking account won't do is earn you money. Depending on your bank and the type of account, you may actually have to pay monthly or per-check fees. Even if you have free checking, wouldn't it be nice to earn some interest on the money in your account instead of it just sitting there until you use it?
One way you can earn interest is by opening a money market checking account. As the name suggests, these are a hybrid of a money market account and a checking account. They have some of the benefits and limitations of each of these.
Here is some information and advice about money market checking accounts.
Minimum Deposit Requirement. When opening a money market checking account, you will be subject to a minimum deposit requirement. The amount varies, but is generally between $1,000 and $2,500. There is also a minimum balance (usually between $500 and $1,000) that you must maintain in order to avoid paying fees each month.
Limited Withdrawals. The account owner can make a limited number of withdrawals per month. This may vary by bank, but in general customers can make no more than a total of six withdrawals and write no more than three checks from their accounts per month. There may also be a minimum and/or maximum amount that may be withdrawn at one time, as well as per month. In some cases, there might be a waiting period before funds can be withdrawn.
Interest Rates. The interest rate for a money market checking account is favorable compared to that of the standard interest-bearing checking account. However, it is usually lower than the rate for a regular money market account due to the increased risk to the bank.
Low Fees. As long as you stay at or above the minimum balance and do not go over the allowed number of withdrawals, you typically will not have to pay any fees for this type of account.
As you can see, while money market checking has a number of advantages, it isn't right for everyone. If you don't have some money already saved up, you won't even be able to open one. And if you have a tendency to spend every penny you make each payday, a money market checking account probably isn't for you.
But for those who have some extra money and would like to earn interest on it while still having easy access, money market checking is great. You get a checking account with no monthly fees, and you get a better interest rate than you would with a standard checking account.
Tags: Banking Advice, Checking, checking account, money market checking