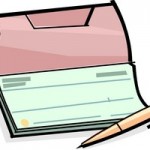 Setting up your first checking account is a simple process. You simply fill out a form, deposit some money and wait for your checks and debit card to arrive. But you'll most likely switch banks at some point in your life, and that's where things can get complicated.
When you switch checking accounts, it's important to take the right steps to ensure that the transition is smooth. A mistake could leave you with overdraft charges, missed direct deposits and a number of other unnecessary headaches.
Here's some information and advice to guide you through switching bank accounts with as little drama as possible.
1. Open your new account first. In order to make sure everything goes smoothly, you'll need to have both your old account and your new one open for a few weeks. That way you can continue to make transactions with your old account until everything is switched over. There may be a minimum deposit to open your new account – make sure you'll be able to meet it and still keep enough money in your old account to cover any pending debits. Opening your account through an online bank will allow you to easily stay in control of this process.
2. Stop spending money out of your old account. If you continue to initiate new transactions with your old account after getting started with your new one, you're setting yourself up for a lot of confusion. So avoid writing checks or using your debit card, and cancel any automatic payments that are withdrawn from your old account.
3. Switch your direct deposits to the new account. Changes to your direct deposit routing information may take a few weeks to take effect. It's best to make them as soon as possible after you get your new bank routing and account numbers.
4. Set up automatic payments through your new account. This is a very important step. If you forget about it, you could miss a payment and possibly incur overdraft fees from your old bank. You should have canceled payments initiated through your bank in step 2, but don't forget about those you've set up through the biller.
5. Make a list of transactions that haven't gone through yet. This includes any checks that haven't cleared, as well as debit card transactions and automatic payments that haven't yet been posted. Check your account regularly online so you'll know when these transactions have cleared, and mark them off the list as you go.
6. Wait. Wait for all checks and debits to clear and your direct deposits to start going into your new account. You may even want to keep some money in your old account for a month or so after that to make sure you haven't forgotten about anything. Whatever you do, make sure there will be no more activity with the account before you close it.
7. Make it official. When you're certain that you're through dealing with your old bank, withdraw your money and close the account. It's wise to call ahead and find out what kind of identification you'll need to bring and whether there are any fees that must be paid. Once everything is settled, destroy your old checks and debit card so that they can't be used to commit fraud.
If you're dissatisfied with your bank's service, unwilling to pay new fees or just found a better account elsewhere, it may be time to switch banks. Don't let the fear of moving your money stop you. By following these steps, you can make sure that your transition to a new account is worry-free.
Tags: Banking Advice, Checking, saving money, switch checking