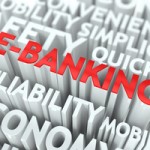 The Internet has changed the way we save for retirement, make our investment decisions, and manage virtually every aspect of our financial portfolios. Even our local banks and credit unions have gotten on board by providing a host of online banking services to their customers.
Surprisingly, some account holders aren't yet using any of the online services offered by their banks. This might be out of concerns for online security, feeling overwhelmed by having yet another account to manage, or perhaps not fully appreciating all that Internet banking has to offer.
Here's some banking advice on the basic steps if you still haven't yet signed up for Internet banking:
Make Sure it's Right for You. Before you visit your bank or go to its website, you need to consider whether the online banking services offered by your bank are something you're interested in. Most banks will have promotional materials that summarize their services, and these can generally be found in the bank itself or on its website.
How Do You Currently Access Your Account? Before deciding on an Internet banking product, it's important to understand and evaluate how you currently access your savings and checking accounts. Are you participating in a direct deposit program? Do you have other financial accounts that you transfer funds into from your bank account? The more activity you run through your account, the more you're likely to benefit from Internet banking.
The Account Application Process. Applying for Internet banking access is generally a very quick and simple process. You'll generally need to complete an application – either online or at your bank – and your online account access will generally be enabled immediately. You'll need to choose a password (and possibly also a unique username); be sure to choose a strong password that's different from all of your other financial accounts.
Keep Yourself Safe. One of the biggest factors that keeps some account holders from taking advantage of all that Internet banking has to offer is to be concerned over online security. Be sure that you never write your password down, and certainly don't keep it in your purse or wallet. Resist the temptation to log in to your account or conduct any banking activities over a public Internet connection.
Will You Also Sign up for Bill Pay Services? "Internet banking" can refer to a number of related and complementary online services. In its most basic form, Internet banking will give you the ability to check your account balance online, and transfer money between different accounts that you hold at a particular bank. Another common feature is online bill pay, but this is often a different sign up procedure than just standard Internet banking.
Internet banking can provide you with a significant level of convenience over having to conduct all of your banking activities in person or over the telephone. Take a few minutes to sign up today.
Tags: Banking Advice, direct deposit, Online Banking, online security