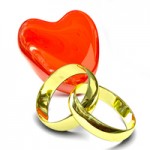 A wedding is an exciting time. It's a milestone that marks the beginning of the rest of your life together. But if you're not careful, it's also something that can cost many thousands of dollars. And it's surprisingly easy for the costs of a wedding to ultimately climb into the tens of thousands of dollars.
As you're starting out your life together the last thing you want to do is start it with debt, so it's highly advisable to save all the money that you'll need to cover your wedding costs. Before you say "I do," create a plan to save money for your wedding.
Here's some banking advice on saving money for a wedding.
Take Time to Budget and Plan Together. The first step is to sit down with your soon to be spouse and determine a budget. Think about not only what you want to do for your special day, but what you can do to cover the associated costs. Part of this planning process should ideally include a date. When do you want to get married and how much money can you save between now and the big day?
Discuss Personal Finances. One of the first steps in a married relationship is to decide how you want to handle your finances. Some couples choose to completely consolidate all of their finances. Others prefer to keep them completely separate. A good compromise is to create a household joint account and to also keep separate savings accounts for personal use, and this can carry over into your wedding planning.
Establish Joint Savings Account. To save for your wedding, consider creating a joint savings account. You can then both contribute to this account with automatic deductions from your personal accounts or paychecks. You can then pay for all wedding expenses with this account. It will help you stay on budget and contribute equally (or in whatever proportions you agree) to the wedding costs, planning, and savings.
Be Flexible With Your Wedding. There are many ways for you to enjoy a perfect wedding day and save money. Wedding experts recommend that you consider:
Shortening Your Timeframe – When you have too much time to plan and save, the wedding can become more elaborate than it needs to be (or than you really want it to be). Keep things simple.

Use the Off-Season – Plan your wedding for off-season times and you'll be able to save on everything from banquet halls and caterers to entertainment.

Skip Saturday – Get married on any other day than Saturday (the most popular day to get married) and you'll save a bundle.
Recruit Friends. Let your friends and family get involved in the big day. For example, ask a crafty friend to create the invitations and a friend with a green thumb to grow your flowers.
Establish Priorities. Decide what's most important for you on your wedding day and make that element a priority. For example, if you want beautiful flowers or great entertainment then allocate your budget to those items and let a few less important items go.
Finally, do your research before you begin taking steps to plan your wedding. It's important to understand how much wedding expenses can cost so you can create a realistic budget and savings plan.
Tags: Banking Advice, saving for wedding, saving money, wedding plan