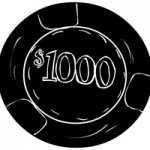 No one would argue that saving isn't an important component of a healthy financial plan, but "saving" is merely a concept. Without having an idea of why saving is important, how much you need to save, and how you intend to get there, it can be difficult to make any progress.
The best way to save is by having a goal for the amount you want to save, and a timeframe for doing so. Without a goal you won't know whether you're saving enough, and therefore won't be able to come up with a plan to achieve. Wouldn't it be nice to see an extra $1,000 in your savings account in one month.
For a concrete example, this article will walk you through possible steps for saving $1,000 in 30 days.
Come Up With a Plan That Works For You. The best way to reach your goals – whether they're financial goals or some other goals – is to have a plan. But this isn't something where a "one size fits all" approach will work very well. An individual or family with a relatively high level of disposable income may simply be able to save an extra $250 per week by cutting back on the number of times they go out to eat. A different individual or family might not eat out at all, so they'd need to find their savings elsewhere. Formulate a plan that works for you.
Get Off to a Good Start. One way to improve the likelihood of getting to $1,000 in 30 days is to get yourself off to a good start. If you can save $100 or more in the first day or two (by having a garage sale, or taking some of the items cluttering up your attic, closet or garage to a secondhand or consignment store), then you'll be that much closer to your $1,000 target.
Realize You Don't Have to Save the Same Amount Every Day. Your expenses are not the same to each and every day of the month, so you shouldn't expect that you'll be able to save the same amount every day. However, you're likely to find that some of the biggest areas of savings can come through changing your daily habits.
Identify Those Costly Daily Habits. For example, if you normally buy your lunch every day during the work week, as well as buy yourself a cup or two of coffee and perhaps a bottle of water or a vending machine snack each day, then replacing these items with similar ones brought from home could easily add up to hundreds of dollars in just a single month.
Remember Why You're Saving. It's important to have a firm goal in mind when you're trying to save $1,000. You might want to use that $1,000 to pay off or pay down one of your credit cards. You might want to boost your emergency savings fund. You might want to start a new IRA or other retirement account. But whatever the reason, if it's important to you then it'll make the process that much easier.
Finally, remember that even if you "fail," you've still succeeded. If you only save $800 or $900 during the 30 day period, that's still more than you had just a month earlier.
Tags: Banking Advice, saving money, Savings