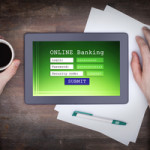 Mobile banking gives us greater power and control over our personal finances. We don't need to coordinate our schedule with our bank's operating hours, and we can conduct various types of banking activities wherever we are, whenever we choose to do so. Having this type of mobile access also lets us choose to do our banking transactions as soon as they need to be done, provided we have our laptop were smartphone with us.
But greater opportunities for access can sometimes need greater opportunities for thieves and scammers as well. However, the good news is that the fear is far worse than the reality, thanks to the financial industry's heavy investment in security technology.
Here are some tips for making your own mobile banking activities safer.
Use a Strong Password. You've heard this advice many times before, and it's an important part of making your mobile banking activities safe – use a strong password. This is generally understood to mean a password comprised of upper and lower case letters, numbers, as well as typographical symbols. This also means using a password that you don't use for any other of your accounts.
Lock Your Device. Nearly every smartphone comes with a screen or device lock that must be unlocked with a PIN. Be sure you are using this to protect your device, and any mobile banking apps that you have installed, in the event your phone is ever lost or stolen.
Disable Automatic Logins. Make sure you are prompted to enter your password each and every time you login to your account from a mobile device. It might seem like an unnecessary hassle, but disabling automatic logins will make it much more difficult for someone else to access your account if they have your mobile device.
Only Use Secure Connections. You can keep your mobile banking safer by only using secure Internet connections to conduct such activities. Try to use your cellular connection (rather than a wi-fi connection) on your smartphone, and you may wish to avoid unsecure connections altogether.
Don't "Root" or "Jailbreak" Your Device. Some smartphone owners like to experiment with ways to use their smartphone outside of the factory installed operating system. This type of "rooting" or "jailbreaking" can compromise the overall security of your device and its apps. Along the same lines, be sure to only install apps from reliable and trustworthy sources. If you have any doubts about whether a particular mobile banking app is approved by your particular financial institution, call them and ask.
Delete Old Emails and Text Messages. Make sure not to leave copies of any old correspondence from your bank (whether an e-mail or text message) on any of your mobile devices. If someone gets hold of your device, they may be able to use that information to gain access to your account. Delete all such correspondence as soon as you've read and dealt with it.
By integrating key security strategies into your normal mobile banking routines, you'll be doing everything you can to keep your finances secure.
Tags: Banking Advice, mobile banking, online secutiry