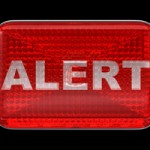 In many respects we're now more connected to our bank and checking accounts than ever before, even though we're doing less and less of our banking in person at the local branch. With online banking we can perform many basic banking tasks from home, regardless of the time of day or day of the week.
Banks and credit unions continue working to give us additional ways of connecting with our accounts. In addition to online banking, banking alerts are on their way to becoming a standard way of doing business.
Here's some advice on some of the most common types of banking alerts, and ways in which you can make the most of them.
Account Activity Alerts Overview. Account activity alerts are likely the most common type of electronic personal banking alert. The basic purpose of an account activity alert is to let you know any time there is a debit or other activity in one of your accounts. These types of alerts can be helpful for several different reasons.
Unauthorized Account Access Detection. The biggest value of account activity alerts is to make you aware of unauthorized account activity. Unless you were to check your account balance manually, unauthorized activity would otherwise go undetected until your next account statement – assuming you're diligent in reviewing each and every line item of your statement and noticed the activity. With an account activity alert, you'll be able to instantly focus on the transaction covered by the alert, and be able to quickly determine whether or not it's a valid charge.
Payment Verification. Account activity alerts can also be a great way to confirm that certain recurring payments set up through your bank's bill payment system have been made, or that some other transfer you've authorized has been completed. Furthermore, when your activity alerts also include your adjusted balance after the transaction, you'll always know your account balance.
Low Balance Alerts. Another common type of alert is a low balance alert. These are usually configurable to alert you when the balance and any one of your accounts falls below a specified level. This can be very valuable information to the extent that it helps you avoid overdrafts or other missed bill payments.
Overdraft Alerts. Your bank can send you alerts if any check or electronic transfer you've set up has been rejected because of insufficient funds. While these types of alerts won't save you from any fees that you may face because of the missed payment, they can help you remedy the situation as soon as possible.
Text versus E-mail. Regardless of the types of alerts you set up, you may be able to specify the method of notification. The most common methods are to receive and e-mail or a text message. If you don't mind the duplication, you may wish to receive both just to make sure you receive important information on a timely basis.
When you make the most of all the helpful banking technologies your financial institution offers, you'll have greater control over your financial health.
Tags: Banking Advice, banking alerts, banking security, email alerts, mobile banking