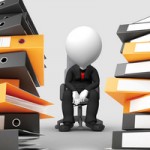 Having to deal with an unexpected financial crisis can be one of the most stressful events an individual will ever face. When we're facing some type of cash crisis – whether it's not being able to pay our mortgage or pay our bills – it's easy to feel overwhelmed and simply do nothing. In the northeast many folks are now facing a cash crisis due to super storm Sandy.
Fortunately, there are some steps you can take to handle a cash crisis in the best possible way. There's usually a solution to the problem, even if it's not immediately apparent, and even if it's not going to be an easy one.
By considering the following points, you'll have the best chance of dealing with the immediate crisis, and keeping yourself financially healthy in the long term.
Quantify Your Problem. Don't panic and start taking a bunch of different steps all at once in an effort to solve your problem. Take a step back and quantify exactly what your financial liabilities are. Include both the current deficit as well as any related financial issues that are likely to arise from it. Only when you have a good handle on the size of your cash crisis can you start trying to find the best plan to solve it.
Identify All Reasonable Solutions. It's important not to jump at the first solution that comes to your mind. While you might come up with the best solution right away, you should still take a little bit of time to make sure that's actually true.
Avoid Borrowing Against Your Future. If possible, you want to minimize the negative impact that your solution will have on your financial future. For example, far too many individuals seem ready to borrow against their 401(k) accounts in order to find a short-term cash crisis. While this may solve your current problem, you may be creating even greater problems for yourself in the future.
Figure Out Why It Happened. Even when you come up with an acceptable solution for your short-term problem, you want to make sure that it doesn't happen to you again. The best way to ensure this is to figure out why you're facing the cash crisis in the first place. If you were hit with a significant and unexpected medical expense, then you may wish to guard against this in the future by getting better healthcare coverage, or perhaps improving your health so that you're at a lower risk of future problems. If you don't have a written budget for your personal finances, it may be difficult to determine exactly how your cash crunch happened.
Do Better Going Forward. If you don't have a budget, prepare one as soon as possible. If you do have a budget, you may need to adjust certain line items in order to protect yourself in the future. Ask yourself how you can cut back on some of your expense categories to give yourself a financial cushion going forward.
In general, the best way to handle a cash crisis is to expect the unexpected. These issues are precisely the reason why it's essential that you have an emergency savings account. If you don't have an emergency savings account, start building one as soon as possible.
Tags: Banking Advice, cash crisis, emergency fund, emergency savings