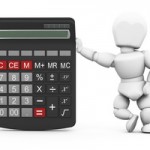 An increasing number of people are using their iPhones for tasks that previously would have been handled in some other way. Point and shoot cameras, pocket video cameras and dictation recorders have in large measure been replaced with functions built into every new iPhone.
Even many personal budgeting tasks can now be done with the iPhone. In fact, some individuals are finding that because they usually have their iPhone with them at all times it's easier than ever to create budgets and track those budgets. Much of the initial resistance that many people encounter with following a budget has to do with actually getting that budget up and running.
Here's some straightforward banking advice on how to use your iPhone to bridge that challenge and set up a budget.
Get the Right iPhone App. Depending on the methods you use to create and track your household budgets, you may be able to find an iPhone app that integrates seamlessly into your existing technique. For example Mint.com – the popular online finance and budgeting system – has its own free app. There are also a number of other standalone apps that you can use to accomplish practically any budgeting task you wish.
Identify Your Needs and Goals. It's often a challenge to set up a new budget if you don't know exactly what budgetary goals you're trying to meet. If you aren't currently following a budget then you can use one of the many iPhone budgeting apps to help you learn more about where you are now (financially speaking), and what you can realistically target as a goal for yourself.
Keep Your iPhone With You and Use it. Your iPhone only works as a budgeting tool if you keep it with you and actually use it. Get in the habit of taking out your iPhone every time you make a purchase, and recording the amount and purchase information into the phone. With a great tool like the iPhone you don't have to rely on your memory for the raw details of budget tracking.
Sync with Another Program. Even though the iPhone can be a great asset to your overall financial planning and budgeting process, there's a good chance that you don't want to handle all of your finances on such a small screen. If you use budgeting software on your home computer, see what iPhone apps can automatically synchronize with that software. The goal is to input any relevant financial information just once, but have it available wherever you need it (whether that's on your iPhone when you're on the go, or on your computer at home).
Stay up to Date on Your Financial Data. Your iPhone can help you with your budgeting by providing you with the most up-to-date information on your finances. Use your iPhone to stay current on your checking account balance, savings account balance as well as the balances in your emergency fund and investment accounts.
If you have an iPhone then you've already got most of what you need to create a budget for your personal finances. The next step is to find the app that best fits your needs, and to get in the habit of using it.
Tags: Banking Advice, Budgeting, iphone budgeting, set up budget