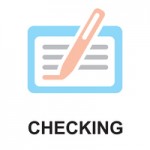 Did you know that the checking account dates all the way back to the early 1500s? It has come a long way since then, but it's still based on the same idea: the bank holds the depositor's money and distributes it on demand.
Today's banks are much more complex than they were back then, and so are checking accounts. They come with various features and fees, and are often combined with other types of accounts. A single bank may offer numerous types of checking accounts, and some individual banks offer features that can't be found elsewhere.
All of these options are wonderful, but they can make comparing checking accounts rather confusing. Here is some banking advice to help you find the best checking account for you.
Consider accounts that are geared toward your demographic. Many banks have checking accounts that are targeted toward teens, college students, senior citizens and other specific groups like those that prefer online only banking. They offer features that are usually important to these market sectors. It's good to take a look at these types of accounts, but don't stop there. A different type of account may better suit your individual needs.
Pay special attention to the fees associated with each account. Some charge a fee if you fall below a minimum balance at any point during the month. Some charge fees for check writing or debit card use beyond a certain number of transactions per month. If you have no qualms about meeting the conditions to avoid such fees, they won't be an issue. If you aren't sure whether you'll always meet the requirements, look for accounts that are free of these fees.
Weigh the pros and cons of monthly service charges. Accounts that charge a set monthly fee usually come with interest or other benefits. If the benefits are higher in value than the monthly charge, the account may be worth considering. Do the math before you commit – estimate your monthly balance and figure up how much you'll earn in interest, then see whether or not you'll come out ahead.
Look for accounts with the features you can't live without. Depending on your banking habits, these may include online and/or mobile banking, easy ATM access, free or discounted paper checks, the ability to link to other accounts or other features. Narrow your choices down to the accounts that offer these features.
Consider any perks offered. Some accounts offer ATM fee rebates, free or discounted check printing, email alerts and other features that will save you money or make your life easier. Some even have debit card rewards programs that give you cash back or other incentives based on the total of your purchases each month. These perks are nice to have, but remember that banks use them to lure customers in. If the accounts they're associated with lack the other features you need or charge hefty fees, keep looking.
Finding the best checking account for your needs isn't as easy as it once was. The good news is that with all of the useful features that are now available, it's often much more rewarding. So whether you're shopping for your first checking account or looking for a new one, take the time to look at all of your options. You'll be glad you did!
Tags: Banking Advice, banking fees, checking account, saving money