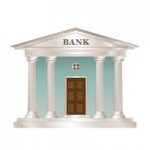 Moving to a new home or apartment can be an exciting development in one's life. Of course, along with all the planning one has to do for the move itself, consumers also have to do the other things that are necessary to set up a new household; things like opening new utilities accounts in their name, getting new cable television service and the like.
Most consumers will probably also need to find a new local bank to do their banking at. Even if they are moving to a small town, they are likely to have multiple options available to them.
Here's some banking advice on how to choose a new bank when consumers move to a new home.
Identify Your Required Services. It might seem like all banks are the same, but not every bank may offer you all the services you need. For example, will you need a safe deposit box? Not every bank or credit union offers them these days. Once you identify the services that you consider absolutely essential, you can exclude any bank or credit union that doesn't offer one or more of them.
Compare Fees. Next compare the different fee schedules for the services that you are likely to sign up for first. Even if all the banks if you're considering reports offer "free checking" services, for example, you need to look behind those claims in order to make fair and accurate comparisons between your various options.
Compare Online Services. Chances are good that you'll do at least some of your regular banking activities online. Most banks and credit unions offer online banking, but the scope of their services can vary widely. Look to see what each of your local banks offers and choose the best option that fits your needs.
Consider Future Services. Next consider the availability of services that you anticipate potentially needing in the near future. Do you anticipate wanting to open a Health Savings Account in conjunction with a High Deductible Health Plan? Do want to open an IRA? Do you anticipate applying for a home mortgage at the bank you do your other banking business? Use the answers to these questions to further narrow down your possible choices.
Consider Convenience. Finally, consider the number of different ways you may wish to access those banking services. What are the operating hours of each bank in your area? Are they open on Saturdays? Do they have drive up teller service? Where are their ATMs located? Are they affiliated with any nationwide ATM networks? Do they have customer service telephone number that's staffed 24/7? The answers to these questions can help you make your final choice.
It's important to make the best possible decision at the outset when it comes to choosing your new bank. It's easy to tell yourself that you can switch to some other bank that may offer better rates, but there's a great deal of hassle involved with making the switch, and many people simply don't go through with it. Do your research and make the best decision at the outset.
Tags: Banking Advice, Checking, switching banks