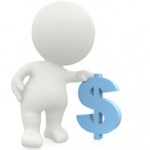 The current economic crisis is one of the worst in history. While recent recessions didn't have a major effect on the average person, this crisis has touched just about everyone. Banks have failed, jobs have been cut, homes have been lost, retirement funds have been decimated, and it has become more difficult to borrow money.
There have even been questions about the reliability of treasury bonds, and that was previously unheard of. So what's next – could the savings in your money market account be at risk? All in all, money market accounts are very safe places to keep your money.
Here's advice on what you need to know about the effects of recession on money market accounts.
Money market accounts and money market funds are two different things. A money market account is offered by a bank, and is very similar to a standard savings account. Its interest rate is based on the going rate in the money market and is usually lower than that of other types of investments. A money market fund, on the other hand, is obtained through a brokerage. It invests in short-term securities, and the interest earned is based on the performance of those securities.
Much of the talk about money market losses actually refers to money market funds. These funds are generally regarded as safe investments, but any investment carries a certain amount of risk. The economic crisis has caused instability in the bonds that money market funds invest in, so that could potentially result in losses for investors.
Money market accounts are FDIC insured. If the bank your account is in should fail, your balance is covered up to $250,000. You could possibly lose money if your balance is higher than that, but otherwise you don't have much to worry about.
There is the chance that the interest rate on your money market account could go down. Banks are allowed to change rates without much notice to account holders, and in today's economic climate they are more likely than usual to do so. Still, you won't have to worry about losing money, just earning less interest on the money you've got. And the way money market funds are performing right now, you may even come out ahead by sticking with your money market account.
If you're not careful, fees could eat into your money market account balance. Most charge fees if your balance falls below a certain amount, and if it stays there you will probably lose money. So make sure that you stay above your minimum balance, and pay attention to any notices that you receive from your bank. They could alert you to a fee increase or higher minimum balance.
Money market accounts are among the safest places to keep your money. Losing money in such an account is practically unheard of unless it is due to fees. Rest assured that your money will be there when you need it.
Tags: Banking Advice, money market account, saving money