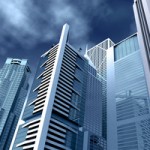 You've probably seen TV commercials from banks that offer "100% Free" checking accounts. Perhaps you've even received a free checking account application or brochure in the mail from a large national bank, or saw an online banner ad.
The offers might not have struck you as odd, but when you think about it you might start to wonder – how do these free checking offers work? How can the bank afford to give away free checking services when it costs them time and money to maintain those accounts?
The truth is that banks are often willing to offer free checking accounts so that you will become a new customer and hopefully take advantage of some of their other services. In addition, depending on how you use the free checking account, there are several types of fees (some might consider these to be "hidden" fees") that could make the account no longer free.
Banks Want Customers. Some free checking offers truly are totally free. The goal of the bank is to win your long-term business. They know that a certain percentage of their free checking customers are going to need credit cards, home loans, car loans and other financial products, and the bank wants to have a relationship in place with those individuals in order to have a chance to win that future business. But some banks will also apply fees to certain types of account behaviors.
The Minimum Balance Fee. The most common "hidden" fee is the minimum balance fee – if you don't keep your account above the minimum balance, then you'll be charged a fee each month. The minimum balance required to avoid this type of fee is generally between $500 to $3,000. Pay attention to whether your bank determines your account balance based on your average balance over the course of the month, or whether the balance falls below the minimum amount at least one day during the month.
The Inactivity Fee. Another common monthly fee is where the bank charges your account if you fail to meet a certain level of account activity. For example, some bank accounts require you to use your debit card at least five times a month or else you'll incur a fee for that month.
Miscellaneous Fees. In addition, some banks apply a higher overdraft fee structure to their free checking accounts, or have a different ATM usage fees. Furthermore, the bank always has other ways to earn fees from all checking accounts (even free ones) such as selling blank check refills for more than you'd pay to buy directly from a check-printing company.
The Direct Deposit Bonus. It's worth noting that some banks will give you a better deal (even on a free checking account) if you set up direct deposit with them. For example, some banks will waive the account minimum balance or the monthly activity requirements if you add Direct Deposit to your account. Banks are often willing to do this because signing up for Direct Deposit is often considered to be a sign that your income is more steady and reliable, which makes you a better candidate for their future financial services.
Check the terms before opening any account, especially accounts that are marketed as "free", and make sure that the rules and fees for the account are a good fit for the way that you're likely to use that account.
Tags: Banking Advice, Checking, checking offer, free checking