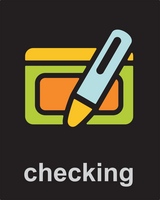 Many of us have our checking account in order to make our lives more convenient. For some transactions, writing a check is still preferable to pulling out our credit or debit card. Because our checking accounts are so utilitarian in nature, we probably don't expect to earn much (or perhaps earn any) interest on our account balances. But we also don't expect to pay much in fees, either.
As part of your diligence in maintaining control over your financial situation, you should always be fully aware of all the fees and charges you're paying (not just on your checking account, but on your savings accounts, retirement accounts, and any investment accounts you may have). But what are some of the less obvious or hidden fees that some banks charge in connection with you having a checking account? Here is some advice on what less-than-obvious fees to look out for:
Fees For Paper Statements. Many banks are in the process of moving as much of their business as possible onto the Internet. One of the ways they are doing this is through electronic statements. Rather than sending you a paper statement each month, the bank will post an electronic version of your statement to your online account (and perhaps send you an email notifying you that a new statement is available). Some of these banks continue to offer paper statements as well, but for a fee. So unless you absolutely need to receive a paper statement, make sure you're not receiving one and being charged for it.
Fees For Your Checks. One of the things that you probably expect to pay for are your blank checks. You probably received your initial supply of blank checks for free when you first opened your account, but when those ran out you ordered more. It's easy to simply order blank checks directly from your bank. You can also order them directly from a third party check printing company as well. In many cases, it's nearly as convenient to order the new checks from an outside check company. You only need to provide them with your account number, your bank's routing number, and the number of the check that you want the new checks to begin with. You'll pay for blank checks in both cases, but in many cases the fees from the third party printers can be significantly less than what you'd pay your bank.
ATM Fees. You probably know that if you use an ATM that's not owned by your bank (or part of the same ATM network as your bank), then you could be hit with a usage fee. But unless you pay close attention to your statement each month, you might not realize how many times you're paying the fee, and how the ATM fees add up.
Finally, you should review your recent account statement carefully each month to make sure that you are not being charged any other unexpected expenses. Your bank will advise you when it starts to implement new fees or charges, but many times these notices will come to us by email and we simply don't notice the fine print regarding the new fees, or we otherwise miss the notice. The best way to make sure that you're not being charged any hidden fees is to read your statement carefully each month.
Tags: atm fees, Banking Advice, Checking, checking fees