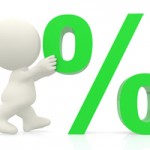 Gone are the days when you had to make a trip to the bank to open a savings account. Now there are lots of online banks to choose from, and you can open an account with them from the comfort of your own home. Since they do business exclusively online and have no branch locations, they have low overhead and can offer very competitive interest rates and low fees.
That's not to say that there are no disadvantages. If you go with an online bank, the chances of finding a current customer to talk to about his experiences, and whether they're as good as they would be with a local bank, are small. And you may not have the opportunity to discuss which account would best suit your needs with a bank employee. But if you don't mind doing some research on your own, an online savings account might offer everything you're looking for.
Here's some advice on how to find the best online savings account.
Look for high yields. This is by far the most important factor for most customers looking for an online savings account. You can find current rates for top online banks at just about any major financial website.
Make sure you have easy access to your money. Liquidity is another important concern when it comes to savings accounts, and you don't have to give it up just because you're doing business online. Many online banks offer free or inexpensive online transfers that will put your money in your hands in a matter of a day or two.
Make sure your money is FDIC insured. Most are, but double check to make sure. Most consumers take it for granted that their money is safe with the bank, but if it isn't insured, you run the risk of losing it.
Look for accounts with all of the features you need. Whether it's free automatic bill payment or a debit card for quick access to funds, you should be able to find an online bank that offers it. You may even be able to set up automatic deposits from a separate account, which will make your banking even easier.
Seek out online reviews from customers of the banks you're considering. Are they happy with the customer service? Is the online interface easy to use and understand? Have they been hit with unexpected fees? Look for impartial reviews from real customers on trusted consumer-oriented websites, as opposed to reviews by affiliates who stand to make money if you open an account they recommend.
Online savings accounts offer a certain amount of convenience. But more importantly, they usually offer better interest rates than brick and mortar banks. If you do your homework, it should be easy to find an online bank that offers the perfect savings account for your needs.
Tags: Banking Advice, online savings, saving money