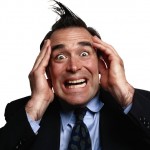 Stress can take a toll on our lives and health. During these tumultuous economic times financial stress is particularly bothersome. While cutting corners never hurt anyone, juggling bills and doing without necessities harms both our physical and mental health.
Stress contributes to health problems, including insomnia, depression and anxiety. If that isn't enough, financial problems may prevent sufferers from getting proper treatment. They may beat themselves up mentally for allowing things to spiral out of control. But that frame of mind can only make things worse. Instead, a more productive use of your energy is to develop a way to get out of debt. Here are some things you can do to prevent or reduce financial stress:
Make a budget and stick to it. Start out with bills and necessities such as food and transportation. Put aside some money for unexpected expenses such as medical bills and car repairs, and reserve a small amount for entertainment. Put all of the money that is left over toward paying off your debts, starting with the one with the highest interest rate.
Become a penny pincher. Scour the sale papers for the best deals on groceries and other necessities, and seek out coupons for the things you buy. Join the frequent shopper club at every store you visit to take advantage of special deals.
Learn to have fun without spending a lot of money. Instead of going out to dinner and a movie, eat in and rent a DVD to watch with your spouse or family. Check your local paper for free events such as concerts. Rediscover the simple (and free) pleasures in life, such as taking a walk around the block and throwing a frisbee in the back yard with the kids.
Keep your credit cards out of sight and out of mind. Avoid using them except in the case of a true emergency, where there is no other option.
Getting Help
When financial stress is too much to bear, you should seek help. Simply talking to a trusted friend or family member will allow you to get some things off your chest. If you don't have anyone to talk to, consider joining a support group or getting counseling. Your local mental health authority can help you find counseling that you can afford.
If budgeting is your problem, credit counseling could be the answer. Also, see my article on creating a household budget. Credit counseling agencies will often help you set up a budget and learn effective money management for free. If that doesn't solve your problems, your counselor might be able to set up a debt management plan for you. This involves negotiating lower payments and interest rates on unsecured debt, allowing you to pay it off more quickly and still have money left over each month.
Financial stress can be devastating for you and your family. Learning to cope and taking control of your finances can help you get your life back on track.
Tags: Banking Advice, financial stress