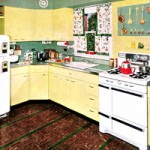 Whether you're selling your home or just want to improve it, one of the best places to start is the kitchen. Kitchen remodels often have the highest return on investment if you're selling. And because we spend so much of our lives in the kitchen, having one you enjoy being in is a worthwhile investment. That being said, there's no reason to break the bank and take on more debt in order to do a basic kitchen remodel.
There are many simple, quick, do-it-yourself things that you can do. Here is some advice and ideas about budget-friendly kitchen remodeling for you to consider:
Replacing kitchen cabinets is often one of the most expensive aspects of a complete kitchen remodel, and often one of the most unnecessary. You can paint, refinish or reface your kitchen cabinets for a quarter of the cost of new ones. And if you do it yourself, you'll save even more. New cabinet hardware is also a great way to add life and personality to old kitchen cabinets.
Replacing your countertops is second on the list of major expenses and goodness knows how much granite and marble cost. However, you can get a great new, and expensive, look by using granite tiles. You can install them yourself and they cost much less than a granite countertop. And there are many laminates – the most economical of the countertop options, which look like stone and cost much less.
Polish the look of your kitchen with a backsplash. You can purchase a sheet of stainless steel and create a modern look, or you can tile your backsplash yourself with tile purchased at your local home store. It's much more affordable than having a designer do it and it adds a bit of color or a nice design element without having to tile the entire kitchen.
Stainless appliances are nice but they cost a lot. Instead you can replace your old appliances with basic white or black. There are appliance paints; however, they receive mixed results and if the project doesn't work out, you can end up with a mess. The best bet is to replace the appliances or contact the manufacturer to see if they have inserts you can purchase to make your appliances all match.
Replace your lighting. Just like cabinet hardware, new light fixtures can add a nice designer touch without much expense. And if you like your fixtures just fine but wish they were a different color, paint them. They make heat-resistant paints that cover just about any surface
.
Paint. One of the fastest and easiest ways to add new life to an old kitchen is with a can of paint. Semi-gloss or gloss is recommended for kitchens because it cleans up well.
Add small touches. Something as simple as a piece of art, a bulletin board or a towel rack hung in the right location can add a personal touch as well as a designer look and feel.
You spend time in your kitchen; it's understandable that you want it to be nice. A few small touches, a little bit of elbow grease and some ingenuity and you can have the kitchen you dreamed of for a quarter of the price of a designer one.
Tags: Banking Advice, budgeting advice, kitchen remodel