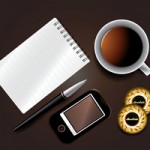 Even when spouses have decided to combine their finances upon marriage, it's increasingly rare that each won't have at least one account that's solely in their own name. Unfortunately, spouses don't always do a good job of keeping one another informed of their important individual information.
While the death of one spouse is the most severe example of a situation where the other will need access to their banking information, it's certainly not the only such case. A serious accident or illness could easily incapacitate your spouse to an extent that you'll need to handle various financial transactions for the household, and may need access to their individual accounts.
Here is some banking advice and guidance on the banking information that your spouse should know.
List of Accounts. Make a list of all of your financial accounts, including relevant account numbers and other data. Make sure to include all financial accounts, including accounts that may be offered through an employer, as well as specialized accounts such as a U.S. Treasury electronic savings bond account.
Key Data About a Joint Account. If only one of you is responsible for managing any of your jointly held accounts, the key information about that account (such as usernames, passwords and information relating to bill payment services) should be easy for the other spouse to find.
Beneficiary Information. It's important that each spouse knows the beneficiary information for the other's individual accounts. This will enable each person to make better decisions about who to name as a beneficiary in any new individual accounts they might open. Having all beneficiary information readily available can also make it much easier to decide upon the beneficiaries that they'll name for their joint financial accounts.
Write it Down in a Single Place. If your spouse needs any financial account information because of your death or incapacity, the last thing you want is for them to have to do is spend time and energy looking for it. Write all relevant information in a single place, and keep this document in a safe place, like a locked fireproof box or safe along with your insurance policies, birth certificates and similar documents.
Prior Tax Returns. While your prior year's tax returns might not be considered "banking" information, it's still a good idea to make sure both spouses have access to the other's information. Since more of us are using online tax preparation services than ever before, your completed tax returns might only exist as PDF files – if so, make sure your spouse has easy access to those files. Using a joint external hard drive or flash drive can be an easy way to make sure all shared documentation can easily be found.
While the purpose of having some separate financial accounts may be to provide each spouse with some independence, that doesn't mean that the other spouse should be kept in the dark. If one spouse becomes incapacitated or dies, the other might need access to those accounts, so they should be aware of what accounts exist.
Tags: Banking Advice, beneficiary, joint account