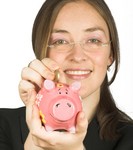 When we set out to improve our financial health by saving more money, there's no shortage of advice on how to do it. Unfortunately, sometimes the methods that are suggested represent too much of a change for some people to handle all at once. And good financial advice won't be particularly helpful if it's not followed.
Saving isn't an "all or nothing" endeavor. It would be great to completely transform one's financial picture and begin saving hundreds or thousands of dollars each month, but if that's not a realistic option there are still plenty of easy ways you can boost your savings rate each month.
Here are 10 banking tips that will allow you to save more money each month.
1. LED Light Bulbs. The next time one of your light bulbs burns out, consider replacing it with an LED bulb. Don't worry, LEDs are a completely different technology than compact fluorescent (CFL) bulbs, and are much closer to traditional bulbs in appearance and performance. They're more expensive to buy, but save you many times more than that additional cost through significantly lower electric usage.
2. Date Night (of Family Night) at Home. Spending time with your family or a loved one often happens at restaurants, the movies, or someplace else that you're tempted to overspend. Try to plan special nights at home instead.
3. Get a Better Credit Card. Assuming you use a credit card, consider switching to one that has a lower interest rate, pays you cash back, or even does both. Try to avoid paying an annual fee for these benefits.
4. Change Your Own Oil. Getting your oil changed by a professional often takes more time than you'd like, once you include the time to drive to the shop and wait for your car to be serviced. By learning how to change your oil yourself at home, you can save money as well as time.
5. Check Your Tire Pressure. Even if your tire pressure is just a few psi under the recommended levels, you may be spending 5% more for gas every time you fill up.
6. Drop the Gym Membership. Obviously you don't want to compromise on your health just to save money, but take a fresh look at how much value you're getting out of your gym membership. Do you go often enough to justify the monthly expense? Could you use your local rec center or low-cost home gym equipment to work out the same way?
7. Maximize Your Grocery Savings. Pay closer attention to your current grocery store's weekly sales, and any other benefits that are available through a loyalty program (including things like e-coupons).
8. Cut Back on What You're Not Using. We can all get into the routine of spending money on things we don't even use. Take a look at your next cell phone or cable television statement in ask yourself whether you use all of the things you're paying for. You may be able to switch to a less expensive service plan and not even notice the difference.
9. Fix the Leaks. It's easy to put off fixing a leaky faucet or toilet tank. But over time, all that running water costs money.
10. Track Your Money. One of the biggest reasons that people find it too difficult to save money is that they don't have a good understanding of how they're currently spending. Track your spending for a month or two so you have that knowledge.
Once you get in the habit of making small changes to improve your finances, you can build on them and improve your situation each and every month.
Tags: Banking Advice, saving money, savings tips