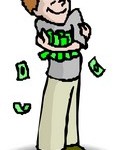 Raising a child can be one of the most challenging and fulfilling aspects of an adult's life. In your role as parent, you'll be their primary teacher for the lessons that will help them live their own lives safely and productively.
One aspect of parenting that's sometimes overlooked and underappreciated is giving a child a financial education. Fortunately, an increasing number of parents are starting to teach their children about money early in life. Often this takes the form of giving a weekly or monthly allowance (even if it's just as small as $2.00), and helping the child understand the concepts of saving and spending. The piggy bank will work when they're young, but as your child gets older you'll need to familiarize them with saving at a bank or credit union.
Here is some banking advice about how to help your teenager get started with banking.
Open an Account Now. Fully understanding the value of saving requires a long term view, so the sooner your teenager has an account in place and can start accumulating money in it, the better. Even if they can only open the account with a small sum, help them do so and encourage them add to their account regularly.
Consider No Easy Access Options. Chances are your teenager will not need constant and immediate access to the money in their savings accounts. If the account is simply viewed as a short-term place to store money which can then be accessed with a debit card each time they see something they want to buy, then they won't be learning the true value of saving.
Help Them Identify Medium to Long Term Goals. When teenagers are first learning their savings habits, it can be difficult to forgo current enjoyment of their money unless there's a definite reason to save. Help your child identify medium or long-term goals that can provide incentive for them to save. It might be their first used car, funds for college or even a trip after they graduate high school. The lesson learned by having a goal that's a few years away, and working and sacrificing to achieve it, can be invaluable. They might also end up learning that goals change; by the time they save up enough for the car it might not be something they want anymore.
Help Them Compare Banking Products. While the idea of opening a new account is clearly about saving, in some sense your teenager will be a consumer – that is, a consumer of banking services. Help your child identify several banks and credit unions in your area, and compare the products that are available. Chances are there will be differences (sometimes significant) in the savings products they offer. Teach your child how having to pay account maintenance or other fees is something to be avoided, and that they should always shop around before making any decision that has an impact on their finances.
Without a parent's guidance, young people can fail to learn important financial lessons that they'll need to become financially independent as adults. Helping your child or teenager open their first savings account is a great part of the learning process.
Tags: Banking Advice, Teen Banking, teenager banking