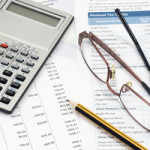 Regardless of your income or your overall financial health, chances are you use your checking account as the backbone of your personal financial planning. Many of us have most (or perhaps all) of our paychecks deposited to our checking accounts each pay period. We then have automatic bill payments set up to pay our bills. And we can set periodic withdrawals from our checking accounts to fund our retirement accounts and investment accounts.
Because we rely on our checking accounts so much, it's absolutely vital that we keep our checking accounts safe and secure. Here are five tips to help you protect your own checking account.
1. Leave Your Checkbook at Home. One way to keep your checking account safe is to keep your checkbook safe. That means only using your checkbook when you need to, and keeping it secure in your home when you're not using it. Resist the temptation of usually keeping your checkbook in your purse or in the glove box of your car.
2. Choose a Unique PIN. Your checking account is almost certainly linked to a debit card, and your debit card is how you're most likely to access the funds in your account. And unlike your checkbook, you probably carry your debit card in your purse or wallet everywhere you go. It's therefore vital to choose a PIN for the card that doesn't incorporate information that a thief could derive from other information in your purse or wallet (such as your birthday or street address).
3. Keep Your Banking App Secure. If you have a smartphone, then you may be using an app to conduct some or all of your banking transactions, so keeping that app secure is essential. There are a couple different elements here. First, your smartphone should be physically secure. Make sure you know where your phone is at all times. Second, make sure your phone requires you to enter a password before accessing any of the apps. Finally, set up your banking app so that you're required to enter your username and password each and every time you want to use it. By doing so, no one can access your account through the app merely by gaining access to your phone.
4. Set Up Alerts. The best way to protect yourself is to have as much information as possible about your account. If your bank offers it, consider setting up transaction alerts. With these banking alerts, you'll receive an email or a text alert every time there's a deposit or withdrawal from your account. This will let you know, in real time, if there's ever any unauthorized activity on your account.
5. Review Your Monthly Statements. By the same token, be sure to closely review your monthly account statements as soon as you receive them. It doesn't matter whether you receive paper statements or electronic statements; look them over as soon as possible.
By developing positive habits when it comes to keeping your account secure, you'll have a better chance of avoiding any account compromises.
Tags: Banking Advice, banking alerts, checking account, Online Banking