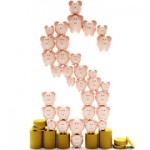 Let's face it – budgeting can be a real chore. But if you want total control over your finances, it's an absolute must. Without a budget, it's next to impossible to keep track of where your money is going, find ways to cut back, save up for future needs or even make sure you'll have enough money to pay your bills each month.
You don't have to be a financial guru or even good at math to budget successfully. There are plenty of tools available online and off that will help you create a budget tailored to your income, expenses and goals.
Here is some banking and budgeting advice that will make your budgeting (and your life) much easier.
1. Online banking. Remember when you had to balance your checkbook by hand and reconcile it with a bank statement once a month? Those days are long gone. Online banking makes keeping track of your transactions a breeze. With a few clicks you can check your balance, review your expenditures and see if your direct deposit has gone through. You can also set up automatic payments to ensure that your bills are paid on time. Almost every bank offers it these days, so if you're not using it, take the time to get acquainted with it. You'll be glad you did.
2. Personal finance software. Computers have eliminated the need to put pen to paper when creating a budget. There's so much budgeting software available today that the hardest part is choosing which one to use. If you're good at budgeting and want to have total control, a spreadsheet program such as Microsoft Excel may be all you need. For those that need more guidance, there's budgeting software such as Quicken that you can install on your computer. If you want access to your budget anytime, anywhere, there are plenty of online budgeting programs to choose from. And there are plenty of free options available, so you won't have to worry about your budgeting software eating away at your budget.
3. Coupon organizer. Coupons can save you lots of money on everyday needs. In order to take full advantage of them, you'll need a system to keep them organized. If organization is your strong point, you can create your own system. If not, there are some great organizers on the market that will help you keep your coupons handy.
4. Calculator. For the mathematically challenged, the calculator is one of the greatest things ever invented. Even if you're a math whiz, it makes budgeting quicker and easier. It's a good idea to keep a calculator on hand at all times so that you can solve budget-related equations with ease.
5. Pencil and paper. This is about as low-tech as it gets, sometimes the best way to answer budgetary questions is to jot stuff down. Whether you're comparing prices, creating complex equations or writing down cash transactions to manually enter into your budgeting software, there are times when a pencil and a piece of paper can be your two best friends!
There's no single budgeting method that's right for everyone. But these five tools are among the most important staples for budget success. Make use of them and take control of your finances!
Tags: Banking Advice, Budget, budgeting advice, saving money